P7 Woodhall Trip 2020
P7 Woodhall Trip 2020
12 March 2020 (by ballycastle)
Photos-Part 1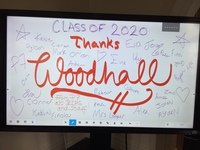 P7 have returned home safely from a truly fantastic trip.
They experienced a jam-packed 1.5 days where they: went canoeing up the Bann in a hail storm, got to soak Joan, Finola, each other and Mrs Ledger in an epic water fight, jumped into the River Bann fully clothed, ate lots of tasty food, went orienteering in the sleet/snow, conquered the terrifying nightline, had a cheeky midnight feast, jumped off a 40ft platform in the Leap of Faith, worked as a team in human jenga, went flying down a zip line, played pool and hide n seek and generally had a mountain of fun!!!
The pupils, as always, did our school proud and it was brilliant to see them try new things, push their boundaries, challenge themselves and most importantly, smile, laugh and thoroughly enjoy themselves.
Have a look at some of their antics in our gallery 'P7 Woodhall Trip 2020'. More photos will follow tomorrow.