New floor being fitted next week!
New floor being fitted next week!
7 February 2020 (by ballycastle)
The corridor looks very different today as we get ready for the painters to arrive next week!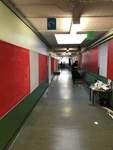 Workmen will be in school on Tuesday, Wednesday and Thursday of next week laying new vinyl in the corridor and on the stairs. This means that parents will have to use the Nursery entrance to get to the Hall for Parent Teacher Meetings on Wednesday 12 and Thursday 13 February. This work was due to take place at half term but the workmen are arriving earlier than planned!! Nursery meetings will be in the P2 room and KIDZONE will be in P1 during their indoor time. Apologies for the inconvenience caused, however it will be great to get the redecoration completed.