BIPS PTA Christmas Raffle 2019
BIPS PTA Christmas Raffle 2019
20 December 2019 (by ballycastle)
A huge thank you to everyone who sold and bought tickets for our BIPS PTA Christmas Raffle 2019.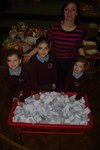 A total of £1700 was raised and this money will go towards the painting of our school hall and ICT equipment.
We would also like to thank all of the local businesses who gave so generously, providing a fantastic range of prizes and our PTA for all of their hard work preparing and organising the event.
Photos of the event can be found in our app gallery.