Outdoor Hurling Blitz, Dunloy 2019
Outdoor Hurling Blitz, Dunloy 2019
10 May 2019 (by ballycastle)
Great day out for the boys!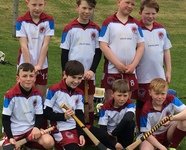 Another well done to our P6 & P7 boys who took part in this year's Outdoor Hurling Blitz in Dunloy.
Once again, our pupils showed great skill, determination and teamwork throughout each of their matches. They played brilliantly against some really tough competitors and never gave up. We were very proud of our boys today. Super effort!