You're a Star!
You're a Star!
14 October 2021 (by ballycastle)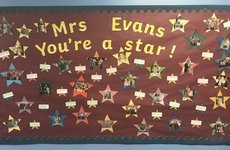 Mrs Evans's retirement celebrations got off to a flying start this morning, when she was shown her very own 'You're a Star!' board.
The board, pictured above, is a wonderful (and somewhat amusing!) collection of photographs, from Mrs Evans's time at BIPS. Along with the photographs, are lovely quotes from pupils in P1 to P7, sharing their fond and fun memories of their Principal.