World Book Day 2018.
World Book Day 2018.
2 March 2018 (by ballycastle)
BIPS celebrates World Book Day 2018.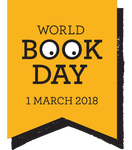 Well done to the boys and girls who dressed up as their favourite book character today. It was great to see you all and good fun trying to guess who you were. Each class were doing lots of activities from writing book reviews to making bookmarks. We were also very lucky to have some parents and grandparents who volunteered to come in to classes to read stories to the children. P5-P7 enjoyed taking part in a 'Where's Wally?' Treasure hunt.