Gymnastic Medal Winner!
Gymnastic Medal Winner!
1 February 2018 (by ballycastle)
Pupil wins Silver!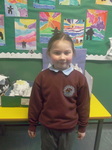 A huge congratulations to one of our pupils who won Silver at the recent National Apparatus Finals in Dublin. During our Pupil of the Month Assembly, we witnessed first hand, some of the amazing moves this talented youngster had to perform. We are all very proud of you!